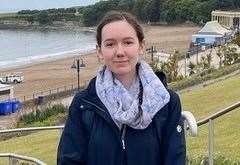 The Thatcham woman's illustrations published in a book competition
A Thatcham woman had her 'exceptionally executed' artwork published in a children's short story book.
Naomi Bennet, 21, a former pupil of Thatcham Park School and Kennet School, has won the Books Council of Wales competition which will see her illustrations published in Casia William's children's book Y Gragen (The Shell).
The competition, organized with Urdd Gobaith Cymru, aimed to find new talent in the field of children's book illustration.
The prize will see Miss Bennet's illustrations appear as a story and picture book and will be included in Barddas' publishing program.
Miss Bennet, who also won a Thatcham Mayor Christmas card competition in her early years, said: 'It's so exciting to have been selected to work on this project.
"I feel very lucky to have the opportunity to start my creative career with a printed book."
She will graduate this summer with an Honors BA in Illustration from Cardiff Metropolitan University.
The competition was judged by freelance graphic designer and higher education illustration reviewer Derek Bainton.
He said, "Naomi's use of color and brushstrokes follows the story's energy, honesty and hopeful undertones.
"The illustrative approach is suggestive and dreamy; both surreal and figurative. The drawings and depiction of the young narrator are so open that they invite the reader into the story, with enough space to bring their own impressions and memories of the beach and the sea to the story.
"Naomi's handling of the relationship between words and images is both refined and refreshing."
---
---