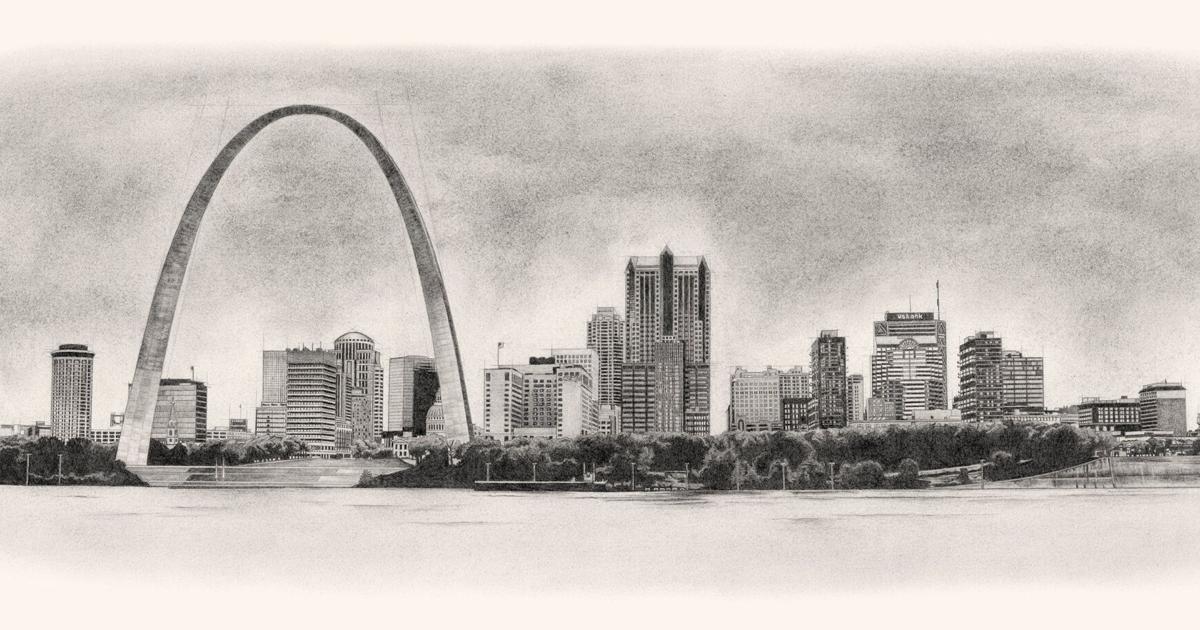 Made in St. Louis: Pencil illustrations capture the heart of St. Louis | Lifestyles
By Pat Eby Special for the Post-Dispatch

Artist Joseph Bodus finds inspiration close to home in the buildings, history, sports teams, landmarks and culture of St. Louis. He captures the moments that ignite his imagination in meticulous pencil drawings that are dynamic in composition and perfectly rendered.
"I have been doing art forever – since I was a young boy. I have always loved art very much, so in the fall of 1999 I started studying art at Florissant Valley Community College," explains Bodus, "I graduated as an associate's degree in graphic design, then in the fall of 2003 I transferred to the Kansas City Art Institute, where I earned a bachelor's degree in illustration."
Bodus held various jobs after college in graphic design for large agencies and small freelancers, and even worked in graphic design for a newspaper. During the 2008-2009 recession, he lost his full-time job. "After the 'big layoff', it took me 16 months to find another job. I started making art and selling at arts and crafts fairs around this time to make some money.
In 2010, he found work as a web designer and graphic designer for a large organization and stayed there for five and a half years. He continued to sell art on the art fair circuit, but fate intervened. "I was laid off again on September 22, 2016, my birthday. I received a great birthday present. I took a leap of faith and walked out to take my art business to the higher level.
Get the ball rolling • Bodus has enjoyed sports, especially baseball, since he was a child. "I grew up in a neighborhood where all my friends played sports. My best friend happens to be a sports fanatic. We were always playing something – a game of football, backyard soccer, a home run derby, street hockey and basketball after school almost every day in high school," he says.
Although Bodus played organized baseball in elementary school, swimming was his favorite sport in middle school and later high school in Pattonville.
For the love of games • Today, his fine pencil drawings recreate moments from every St. Louis sports team. They feature both history and stories of top players, stadiums and venues. His booth at art shows must be a sports fan's happy place for memorable and meaningful art.
"When I'm at shows, people say 'Oh, I remember that moment in the game' or 'I was in the stands that day' when they look at my sports art," he says.
"I know with the departure of Yadier Molina and the retirement of Adam Wainwright, a lot of people will remember this season. I have a drawing of them two together," he said.
Connect with your fanbase • Bodus goes far beyond sport in its love for Saint-Louis. It has a strong connection with its monuments, historic buildings and vibrant cultural life. "A lot of clients who come to my shows like to tell me their stories about the places I've drawn and they've visited," he says. "People who were there before 1959 remember when the Arena had towers."
"I do a lot of art fairs throughout the year, an average of 16 to 20 in a normal year," says Bodus. "I post fair dates and locations on my Facebook page in my pre-show feed."
He captured the palpable energy of the Fox Theater in his dynamic take on its famous marquee. His rendering of the Cathedral Basilica of St. Louis in minute detail with its rose window and towering spiers retains faint perspective lines along the roofs, much like Old Master drawings.
Hitting his stride • Bodus is currently preparing for a series of fall art exhibitions in the metro area. "I feel like I'm working almost 24 hours a day, but it's at my own pace. I can take a break whenever I want," he says.
Yet he hasn't looked back in six and a half years after leaving the corporate world. "I believe in my heart that this was the right decision. I love what I do and can't wait to see where my art can take me,' he wrote on his Etsy page where the well-stocked store shows its artwork to good effect.
Family • Joseph and his wife, Tara, have two daughters, Liliana, 11, and Isabella, 7.
What he does • Bodus is a skilled graphic designer and illustrator who pencils in fine detail of historic buildings, landmarks, and iconic sports in St. Louis and surrounding towns. He draws using a technique that gives a vintage look to his art. He says his art "creates a moment or a memory in time for people".
Or buy • Bodus sells his work online on his Etsy site, etsy.com/shop/JBDesignIllustration. Artisans in the Loop in University City carries its works locally. He also sells at art exhibitions throughout the year, which he posts regularly on his Facebook page. He will exhibit at the Midwest Salute to the Masters in Fairview Heights, the Greentree Festival in Kirkwood and the Edwardsville Art Fair. Interested parties can contact him at [email protected]
How much • Bodus sells limited editions of signed and numbered prints from his pencil drawings as well as open editions of certain prints. It offers matted and framed prints as well as unmatted prints ranging from $20 to $300. It also sells magnets and greeting cards in the $5-6 range. Coasters featuring an image, sold in sets of four, including a tray, are $50 per set. Original designs are also available, priced at $2,500 to $4,000 or more.