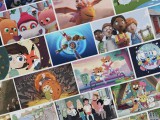 Kidscreen » Archive » Screen Ireland opens new animation academy
To meet the high demand, Irish development agency Screen Ireland has launched the National Talent Academy for Animation (NTAA).
The initiative is designed to increase the number of qualified employees working in the animation sector in Ireland and will highlight diverse and regional talent.
Trade body Animation Ireland is leading the initiative alongside the academy program director and industry vet, Deirdre Barry. She is the founder of Dublin-based Avalon Films, which develops, finances, produces and distributes live-action and animated programs worldwide. Barry previously served as CEO of Irish company Salty Dog Pictures (Yabba Dabba Dinosaurs!) and head of production, co-productions and acquisitions at Irish distributor Monster Entertainment. She has also taught numerous courses for training agency Animation Skillnet and regularly lectures at colleges across Ireland.
The NTAA will provide mentorship programs, workshops, masterclasses, internships, networking opportunities, and counseling to its selected applicants. It will also provide support for talent currently working in the industry; working with high school students considering a career in animation; and encourage workers in the live-action sector to try the genre. Applicants can learn more and register on the National Talent Academy website.
The academy's mentorship program will begin in the coming months, with mentors from production areas such as IP development, scriptwriting, storyboarding, design, editing, music composition, effects visuals and studio setup. The NTAA plans to issue a call for potential mentees at a later date.
The NTAA's steering group of industry experts includes Sheila de Courcy (media producer, writer, consultant), Ronan McCabe and Moe Honan (Animation Ireland), Andrew Byrne (Fís Éireann/Screen Ireland), Gareth Lee ( Screen Ireland), Gary McHugh (Young Irish Film Makers), John Phelan (DBIC), Catherine Hehir (Cartoon Saloon), Stephen Kelly (Ability Focus), Tim Morris (VFXAI), Yvonne Hennessy (Technological University of the Shannon), Sean Smith (Skillnet Animation) and Eileen Bell (Enterprise Ireland).
New animation talent initiatives, especially those focused on D&I, have recently proliferated in the children's media space. Just last week, Netflix opened submissions for its second mentorship program, focused on finding and nurturing emerging talent among veterans and Native American communities in the United States.