Ink washed illustrations are unique lock journal
Shanghai may be under strict control, but the art is not.
Chinese ink wash painter Wang Hui, in suburban Songjiang District, uses brushes and palettes to illustrate his love for the city and his utmost respect for those who offer a helping hand to the community in these times. difficult days.
A volunteer day patroller in the Shangshangyuan district where he lives, Wang always takes his camera with him and captures the moments that touch him. Back home in the evening, the painter brings to life what he sees and feels in ink and pigment on paper.
Ti Gong
"As an art practitioner, I have a duty to record what is happening in the times we find ourselves in," he said. "I am happy to be able to contribute to my community. I hope that the portraits of these volunteers that I have painted can bring them some comfort and show them my gratitude."
In one image, four dabai or the "tall whites" (an affectionate nickname for medical workers because they're dressed in all-white hazmat suits) make "heart" gestures in the neighborhood's central park. Nurses from the Children's Hospital in neighboring Zhejiang Province are helping with the PCR tests.
Ti Gong
"They didn't know I was painting them," Wang said. "I sent the board before they left, and the nurses were so excited they made a video thanking me. In fact, they're the ones to thank."
Since April 1, the day the west side of Huangpu River City was placed under lockdown, Wang began her "lockdown diary" by painting. So far, he's filled 10 sketchbooks with dozens of drawings, ranging from a random doodle to a well-composed painting.
The lines are sprawling and flowing in a free and relaxing way, tinted with simple colors and large patches of black hues. While not sticking too precisely to the details, Wang elaborates on the wrinkles on the hazmat suits, the body gestures or movements of the figures, and the expressions in the eyes when the faces are hidden behind the masks. .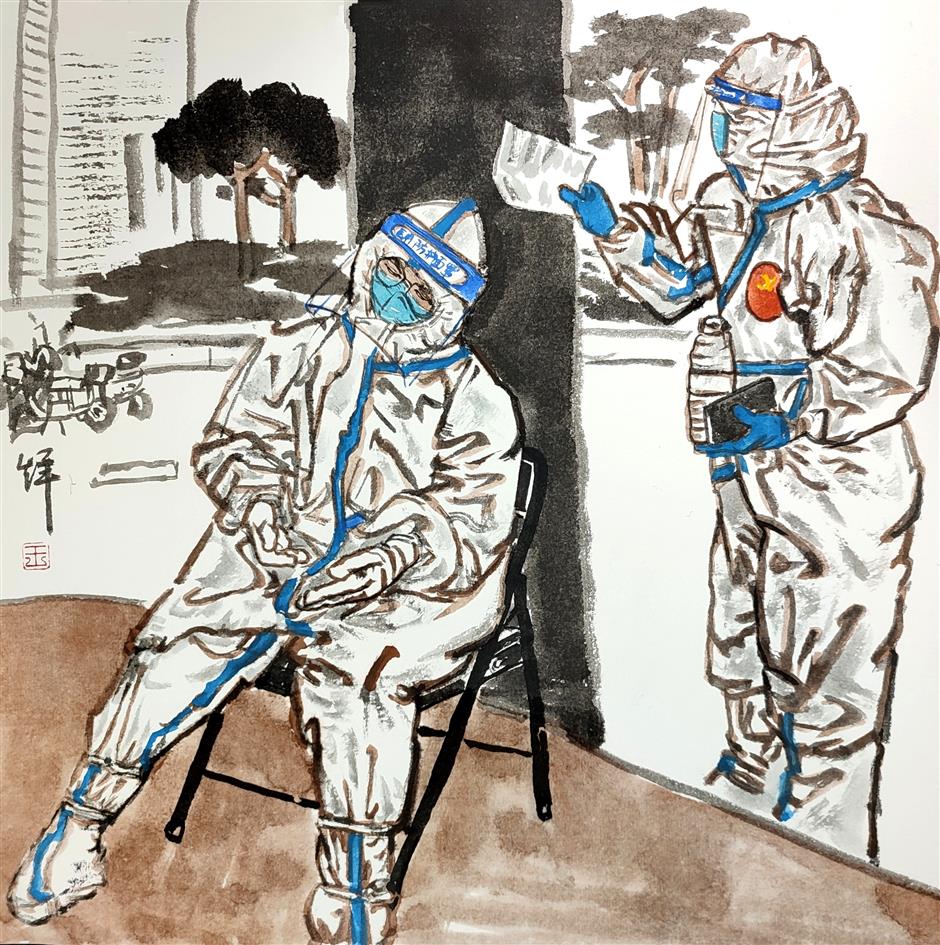 Ti Gong
In another table, a dabai falls into a chair, exhausted with a bowed head. His colleague fanned his face with a sheet of paper.
"It was a hot day, and the nurse could feel dizzy after long hours of work wrapped in tight-fitting protective clothing," the painter recalls.
Wang donated a life-size photo of a volunteer carrying five heavy sacks of food on his back. It now hangs on the wall of the neighborhood committee office door.
"It's my way of thanking everyone who helps me," he said.