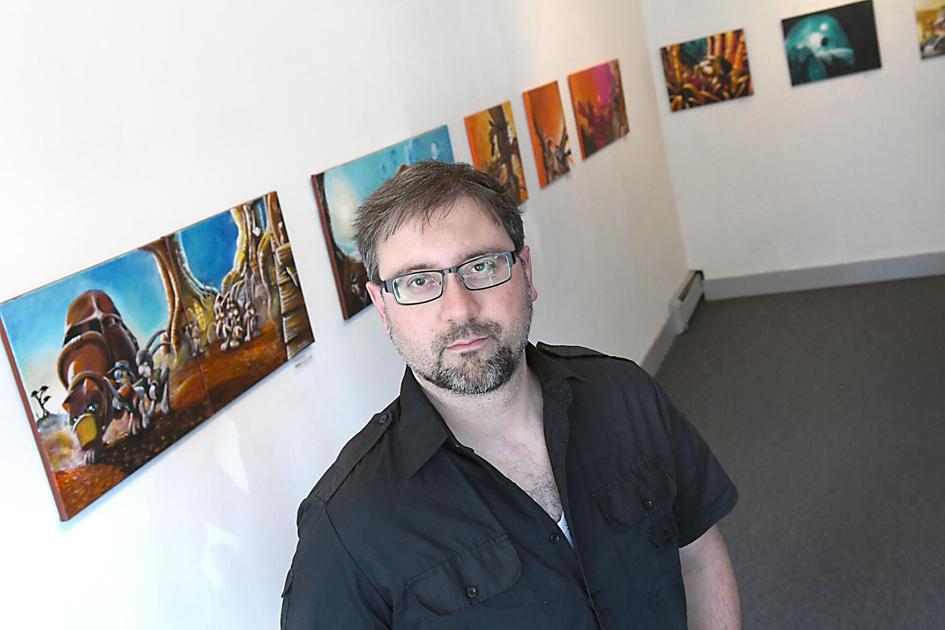 Illustrations from children's books auctioned for ECHO Food Shelf | Lifestyles
James Mackey never really grew up with picture books.
"I loved picture books as a kid," Mackey said. In particular, he was intrigued by the "Who needs donuts?" " very detailed. by Mark Alan Stamaty and the Terran Trade Authority book series that contained illustrations of destroyed spaceships and alien worlds.
But as the father of three boys – now all teenagers – he wrote with his children in mind.
"I made a book a long time ago called 'Tormenting the Gingerbread Boy' for my elder because he loved the 'Gingerbread Boy'," Mackey said. "And even when he was little, he liked macabre things."
Macabre – this is something Mackey knows a thing or two about in his art.
"I've always been drawn to monsters, aliens, and spaceships."
The longtime local artist has written other children's books through his self-publishing label, Autumn Night Books, including "The House of Ichabod Strange" and "Bernie and The Deadbeats," and most recently, "Faster Than Speed ​​". Her latest children's book, released this month, follows the character Emberly (a sort of cat-inspired character) and her flurf, Fuzzball, in their quest to save their village.
Mackey, whose day job is a graphic designer at Minnesota State University, started the project in August 2020 – he knew he needed a big project to commit to a time when he was going through a dry creative period.
This isn't the first time Mackey has found himself in a creative rut – in 2019, Mackey launched a zine called "CRAP!" but it fizzled out with the pandemic.
"I couldn't distribute it anymore, so I wasn't getting anything during that time. It was my creative thing, and when I stopped doing that, it really affected my mood – I knew I needed something to recover.
The children's book was his new creative and productive outlet, especially during home working time.
"If there is a week when I don't have children, I would go a week without speaking to another adult human being. To get through times like that, it was good to have this thing that I would work on every day.
So he started. Mackey has set a deadline for the book to be ready to go to press in early April.
"The original draft was to defend a giant sandwich that (the character) found. But it kind of morphed into (the end product) bit by bit.
Mackey has an obsession with cats (although he only owns one at the moment) and has developed the main character from cats with short legs.
"There are cats that don't have front legs and that jump all over the place, that reminded me of that. I also wanted to make sure there weren't too many real animals because it's not dirt, it's just a weird little place.
And for a children's book, he wanted to make the main character cute but not too much cute.
He had finalized the story last August and started working on his illustrations. "I spent the next four or five months painting. Every morning I would do at least an hour a day – some days I would do more.
Despite being a children's book, Mackey said the book is for all ages with messages from his own life. The character of Emberly wanted to return to his village before the first frosts. But being quick doesn't always work as you expect. Mackey knows full well that doing a job quickly doesn't always mean doing it right.
"Housework or repairs around the house, I'm just going to put something together quickly and call it good – it looks like crap after a year. "
It still happens from time to time, he said, but he realized that it is important to take more time to do the job well.

"Getting the job done is important, but you also have to pay attention to the details," Mackey said. "The main character, if he had taken the time to help the preacher in the first place, he could have made it to town and he would have come back in time. … There is also the message that if you take the time to think about others, others will help you in the end – you are not alone.
The book started in a completely different direction than the end product. But Mackey knew from the start that the book's profits would benefit the ECHO food department.
His illustrations for the book are now on display at the 410 Project until June 20. The paintings are auctioned off and the proceeds go to ECHO Food Shelf, a place he has always wanted to give back.
"When my kids were younger I was going through tough times financially and used the food rack many times. Every time I did, I have always been very grateful and always knew that one day I wanted to pay them back.