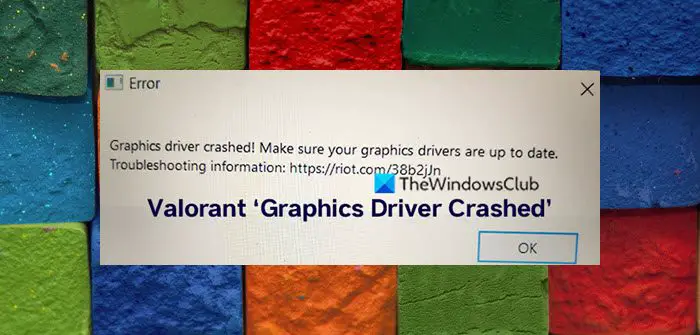 Fix Valorant graphics driver crashing error on Windows PC
Valorant is a free first-person shooter developed exclusively for Microsoft Windows by Riot Games. Valorant is inspired by the Counter-Strike series of tactical shooters. It heavily borrows many elements like the buy menu, spray patterns from it. Many players see 'Graphics driver crashed' error when playing Valorant on their PC. In this guide, we have some solutions that can really help you fix the problem.
Valorant graphics driver crashed
when you see Graphics driver crashed! Make sure your graphics drivers are up to date error on Valorant, you can try the following fixes.
Make sure your PC has the required graphics memory
Update graphics driver
Update DirectX
Set your game to windowed mode
Disable VSync
End unnecessary background processes
Update Riot Client
Let's see each path in detail.
1]Make sure your PC has the required graphics memory
Game and program developers set a minimum hardware requirement to run the particular program without any problem. Riot Games has also defined the minimum requirements for Valorant. You need a minimum GPU of Intel HD 4000 (Shader Model 5.0) with 1 GB of video RAM. If your PC does not even meet the requirement, you need to update your PC.
2]Update graphics driver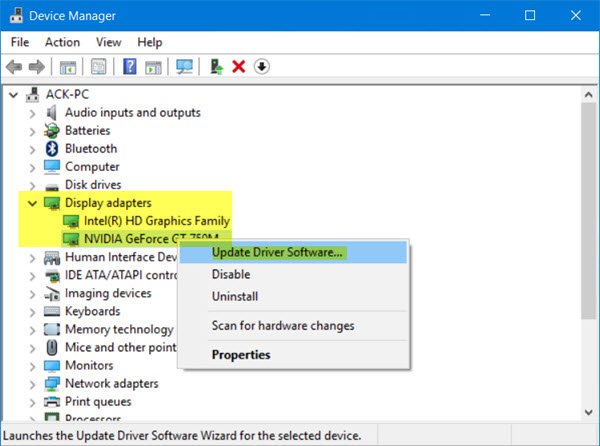 Since the error is directly related to the graphics card, you should update the graphics drivers to the latest version to eliminate the graphics driver as the cause of the problem. So try updating the graphics drivers and check if the issue still occurs. You can use one of the methods below to update your device drivers:
Check for driver updates through Windows Update to update your drivers
Visit the manufacturer's site to download the drivers.
Use free driver update software
If you already have the INF driver file on your computer, then:

Open Device Manager.
Click on the driver category to expand the menu.
Then choose the appropriate driver and right click on it.
To select Update Driver.
Follow the on-screen wizard to complete updating your graphics drivers.
Once you are done updating the graphics drivers, check if the error still exists.
3]Update DirectX
DirectX on your PC enhances multimedia experiences. There is a good chance that this can also cause the Graphics Driver Crashed error on Valorant. So you need to update DirectX to fix the error. Download the latest version from Microsoft and run the installer to update the existing one.
4]Set your game to windowed mode
Playing Valorant in windowed mode fixed the graphics card crashing error for many. Windowed mode uses fewer resources than full-screen mode. To put your game in windowed mode, press Alt+Enter while the game is loading. You must do this every time you launch Valorant on your PC.
5]Disable VSync
VerticalSync or VSync is a built-in feature that matches the frame rate of your monitors with the frame rate of the game. This could also be the cause of the error on Valorant. You need to disable VSync on your PC.
To disable VSync in the NVIDIA Control Panel,
Open NVIDIA Control Panel from the desktop context menu
Click on Manage 3D settings
Then click on the drop-down button next to Vertical synchronization
To select Disabled to turn it off
To disable VSync on AMD Radeon Software,
Open AMD Radeon Software from the desktop context menu
Click on Games
Then click the drop-down button next to Wait Vertical refresh
Set it to Disabled unless app specifies
6]End Unnecessary Background Processes
Processes running in the background of your PC can consume more resources than Riot Valorant. Open Task Manager and end any processes that seem unnecessary and are consuming more memory in the Processes tab.
7]Update Riot Client
An outdated Riot client or corrupted or missing files can also trigger the graphics card crashing error. Check for pending updates for Riot Client or Valorant and install them on your PC after downloading them from the Epic Games Store. Uninstall the Riot client and reinstall it if there are no updates available.
These are the different ways you can use to fix the Graphics Card Crashed error in Valorant.
How do I fix a broken graphics driver?
You can fix the graphics driver crash by updating the graphics card driver or reinstalling it. If the error persists, you need to update DirectX.
You can also run Windows in clean boot state to find out if the error is caused by a third-party program and fix it.
Why is my Valorant crashing for no reason?
Valorant could crash for many reasons. To begin with, your PC may not have met the minimum system requirements, the graphics driver is outdated or corrupted, the cache built on the PC may be corrupted, the game files are missing or corrupted, or there may be have a program interfering with the process of Valorant as an antivirus.